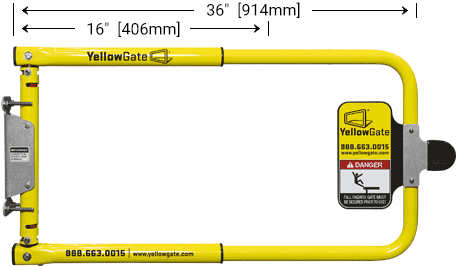 Our swing gates have 20 inches of adjustable length, swing direction and a universal mounting system, all of which protect every passageway with one swing gate. We also offer fully adjustable aluminum railing systems, traffic barricades and control gates.
Our YellowGate line provides safety and mobility for any project. Its pre-engineered, precision-made parts give you the flexibility and efficiency you need.
The standard features of each product, from adjustable swing directions to the universal mounting systems, are clearly superior to other comparable items.
Advantages
Our adjustable and universal mounting system protects every passway in your facility with one swing gate

Just count the number of openings you need to protect and place your order

The fully adjustable aluminum railing system can be installed anywhere with no additional parts

Field adjustable with no cutting, welding or drilling

With 20 inches of adjustability, our swing gates cover the largest opening distance of any swing gate on the market

OSHA compliant